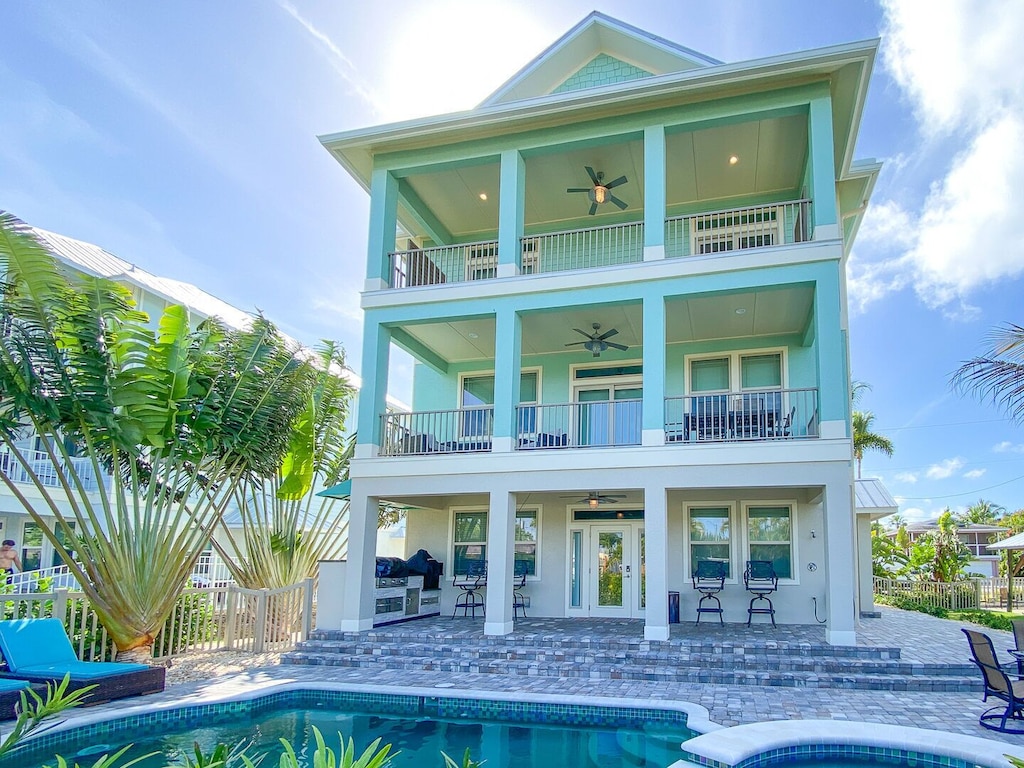 Florida is awash with beautiful towns surrounded by even more beautiful beaches. With wonderful weather and ample coastline across the board, it can be difficult to choose the right destination for your beach vacation. Amongst the many contenders, Fort Myers Beach stands out as a superb destination for a Florida vacation. It has a lot going for it, much more than just the warm and pacific waters of the Gulf.
Fort Myers has history, from its origins as an actual fort in the early 1800s to its status as a winter home for the likes of Thomas Edison and Henry Ford. While there's plenty of beach time fun to be had on Estero (the island upon which Fort Myers Beach sits), the presence of additional activities on the mainland makes Fort Myers more than just an idyllic beach playground.
The beaches for their part are less crowded than many other popular vacation spots, making it easier to find the space to throw down your towel, umbrella, and beach chair. The island is just about 1,000 feet wide, with beautiful views on either side. The surrounding area has a planetarium, museums, state parks, and islands that provide visitors with more options than just a trip to the beach (well, those parks and islands have beaches, too, but you get the idea).
Pro Tip: Bikes are the best way to get around and can be rented practically everywhere, but there's also a tram that regularly goes up and down the main road.
With so much to do, you'll want to take your time to take it all in. Here are 11 excellent Vrbo Fort Myers Beach properties to stay in while you soak up all the sun, sand, and history Fort Myers has to offer.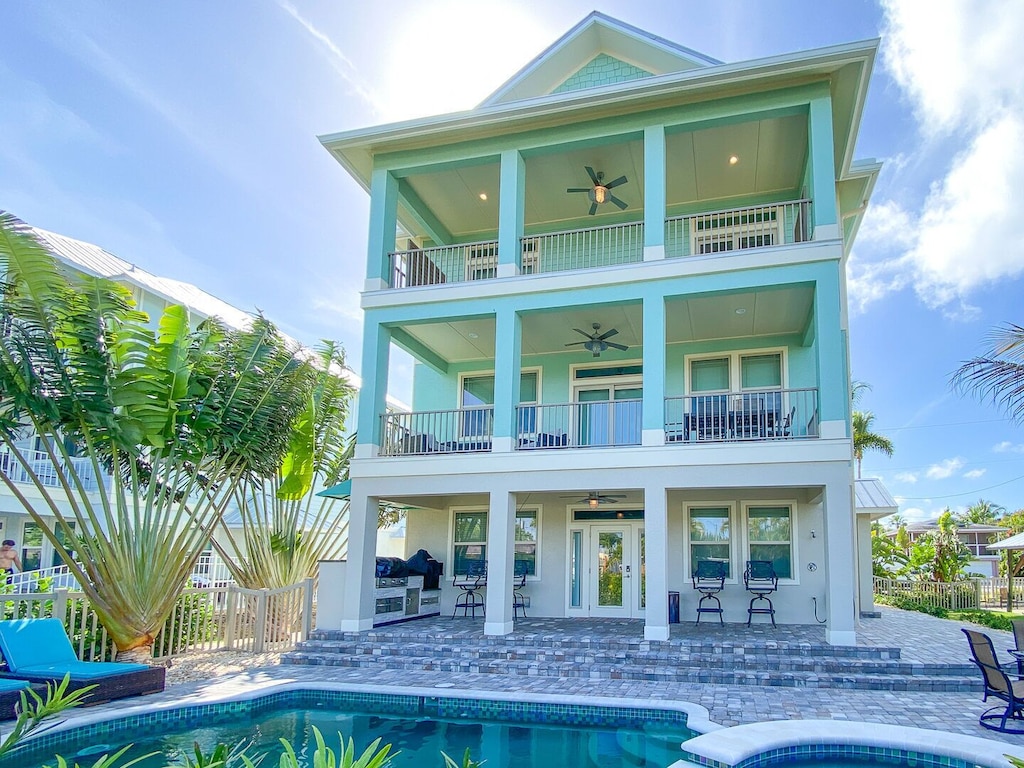 The Island Oasis
Rent Now
$550.00/avg nightly
There are lots of ways to enjoy the waters in Fort Myers. Whether on the Gulf or the thin intercoastal strip (ideal for kayaking), you'll find plenty of ways that making a splash will leave an impression. This beautiful blue five-bedroom home is located on one of the island's many canals, so it's quite close to both the ocean and intercoastal. Walk two minutes in either direction, and you'll be getting sand in your shoes (so you'll want to pack flip-flops, obviously!).
The house has five beautiful bedrooms (all with queen beds or larger) and is wrapped in balconies. Enjoy yourself in the garden or take a dip in the pool before heading to the beach.
Bedrooms: 5
Bathrooms: 6
Sleeps: 10
Dancing Dolphin Beach Pad
Rent Now
$900.00/avg nightly
Given that practically everyone adores a beach vacation, we're sure it won't be too hard to find enough people to fill this fantastic house on the Gulf. The main building features a king room with a fold-out couch, a kids' room with bunkbeds and games, and a second king boasting a balcony.
The smaller building has its own kitchen and sleeps four. Wrangling a group this large is tough, but this home's pool, abundant common spaces, and two kitchens allow a big party to relax without tripping over each other.
The house is on the beach, of course. Just cross a short expanse of sand dotted by palm trees and scrub and you'll be relaxing on the water. Many fine restaurants, bars, and shops are within walking distance.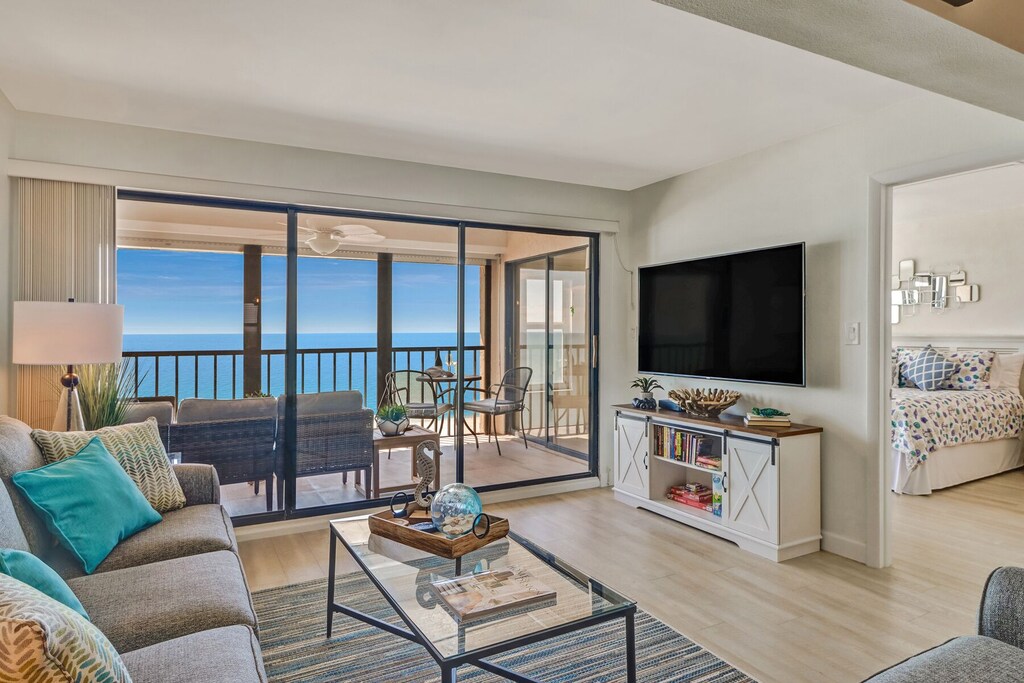 Seas Forever Penthouse
Rent Now
$300.00/avg nightly
The southern end of Estero Island is quieter than the north and features more canals, ponds, and other bodies of water. Take in the beauty of tranquil tidal pools from this 7th-floor penthouse. The next island down from Estero is Lover's Key, a maze of land and water dominated by a state park.
Any trip to Fort Myers Beach is enhanced by a trip to the island. From this penthouse, there's no need to brave the traffic of Estero Boulevard; Lover's Key is just a mile away by foot or bike. In addition to stunning sea views, the apartment has two comfortable bedrooms (queen and king), each with its own bathroom.
Bedrooms: 2
Bathrooms: 2
Sleeps: 4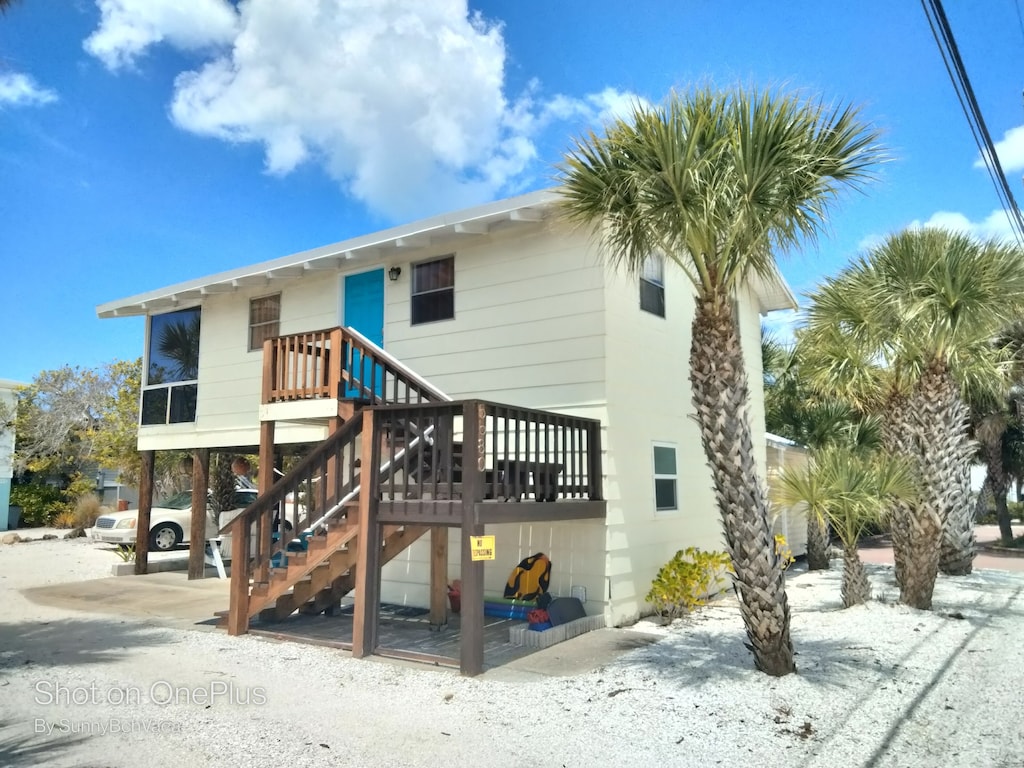 Beach Breeze Bungalow
Rent Now
$225.00/avg nightly
Standing proudly on pairs of stilts, this bungalow is a great base for a beach vacation. Access to the warm Gulf waters is guaranteed by deed. Floridians love their lanais, and this house may be what causes you to fall for this subtropical architectural feature.
Modest in size, it has the benefit of being surrounded by classical beach vegetation. The main bedroom has a recently renovated walk-in shower. There's also an outdoor shower for washing up after a day in the sand.
Bedrooms: 2
Bathrooms: 2
Sleeps: 4
Sandy Cay Cottage
Rent Now
$300.00/avg nightly
Where to feel more at home than in an actual house? This single-story home is just steps away from the beach and a short walk from the island's most popular hotspots. Fort Myers' own "Times Square" is about a mile away.
The place has three bedrooms, recently furnished with all new furniture: a king, a queen, and a bunk bed with trundle. Prepare a meal in the spacious kitchen and then dine alfresco in the backyard palm-thatched tiki hut. This house is great for a family looking for a comfortable home on the water.
Bedrooms: 3
Bathrooms: 2
Sleeps: 6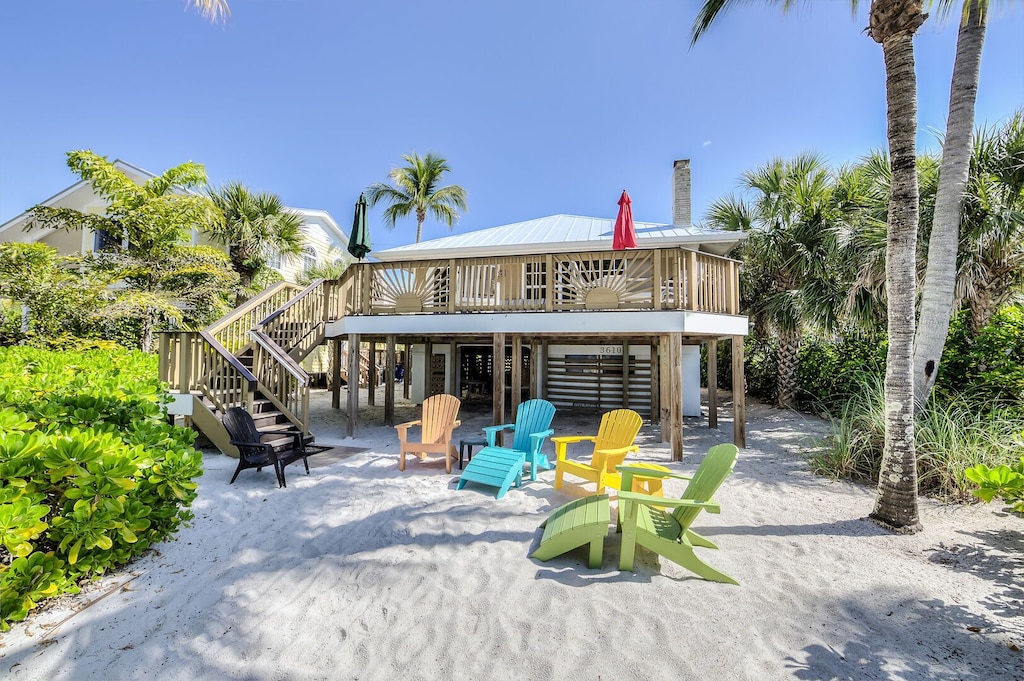 Crow's Nest On The Gulf
Rent Now
$400.00/avg nightly
Look out on the swaying palms and placid waters of the Gulf from your very own crow's nest. The highlight of this two-bedroom house is definitely the outdoor area. It provides guests with their own private beach, shielded by vegetation, from which to watch for dolphins or simply enjoy the hot sand and cool breeze.
The house has a master bedroom with an ensuite bathroom (complete with bathtub) and a second bedroom with a queen and bunk bed. It is located near the middle of the island, so all the beaches, sites, and shops are easily accessed from this lovely home.
Bedrooms: 2
Bathrooms: 3
Sleeps: 8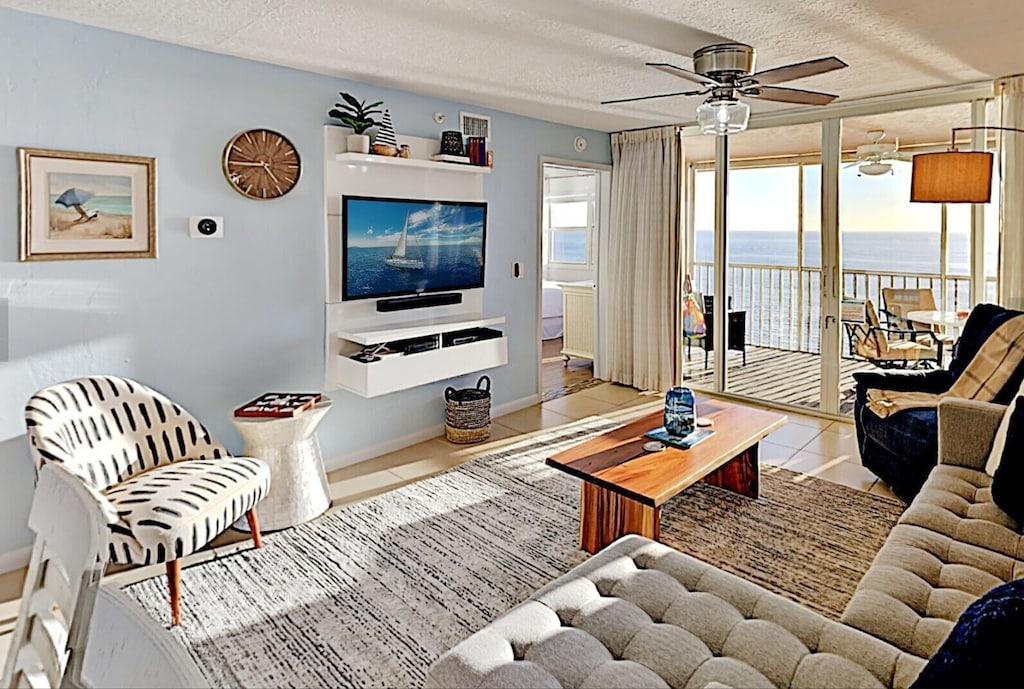 Penthouse At The Northern Tip
Rent Now
$341.00/avg nightly
A look out over the northernmost end of Estero Island from the 7th floor is liable to take your breath away. Luckily there's plenty of room to sit and catch your breath in this comfortable penthouse! This apartment is the finest in the building, 1,000 square feet of Floridian fantasy.
The master bedroom and common room are attached to a soaring lanai with comfortable seating to keep you cozy as you watch the sunset. The second bedroom has two full beds and its own bathroom. Feel right at home with the brand new smart TV and SONOS sound system.
The accommodation includes a ground-level pool and laundry services in the room. Sport rental services and fine dining are readily available at the Pink Shell Resort, located one door down. For a fishing charter, look no further than right across the street.
Bedrooms: 2
Bathrooms: 2
Sleeps: 8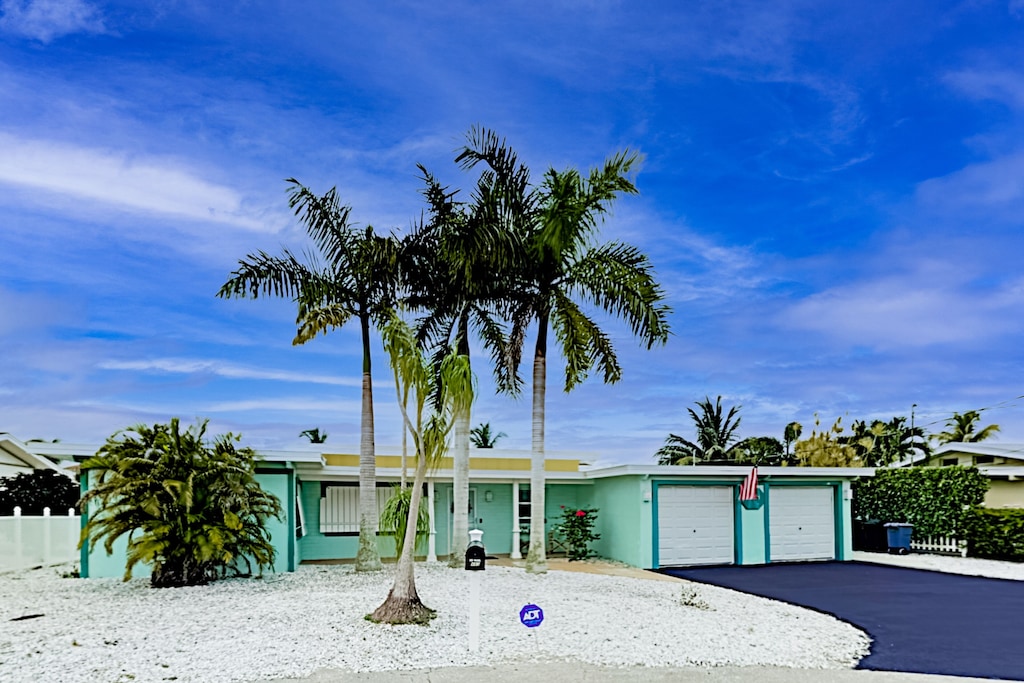 Canalside Retreat
Rent Now
$215.00/avg nightly
Sleeping up to 10 guests, this house on the canal is a private place from which to explore paradise. The canal is on the inland-facing side of the island.
Most people prefer to swim in the Gulf but the intercoastal side is better for kayaking and other watersports (kayaks and bikes are provided). If the heated pool isn't enough for you, the Gulfside beaches are just a few minutes away.
Bedrooms: 4
Bathrooms: 2
Sleeps: 10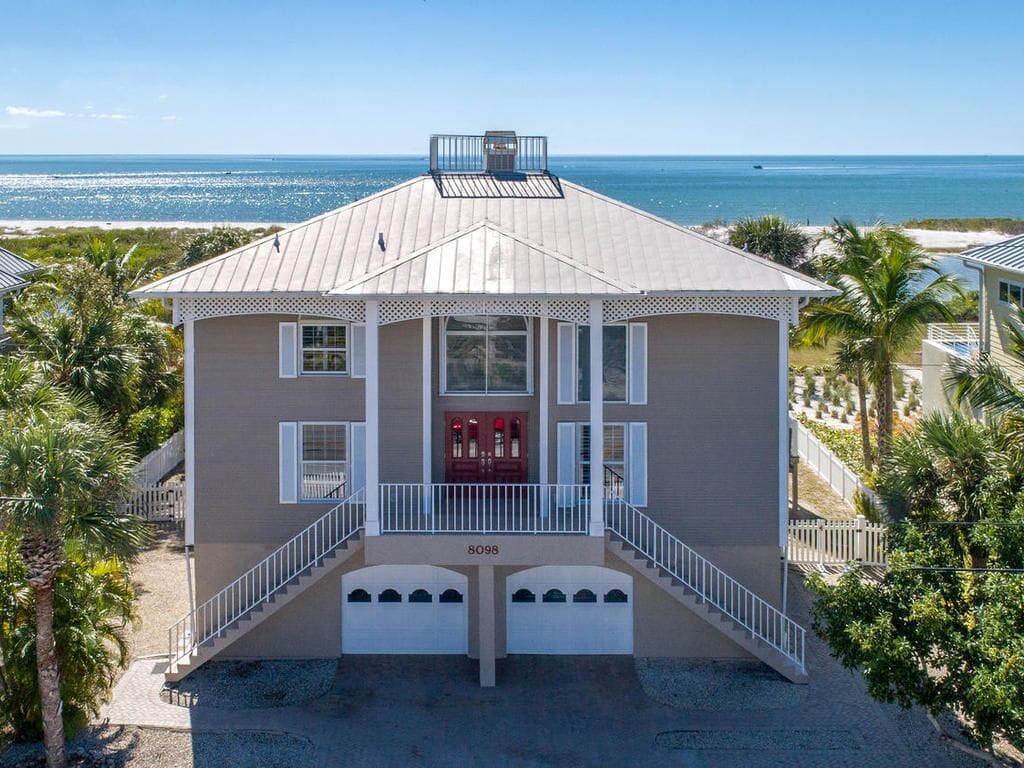 Large Family Home On The Southern Tip
Rent Now
$586.00/avg nightly
Vast and family-friendly, this home promises fun in the sun for your multigenerational group. An elevator ensures that everyone can get around the home, while paved beachside boardwalks grant everyone access to the wonders of the Gulf.
The home is near the marina, perfect for those interested in boat trips. A protected pond lies directly behind the house. This offers guests a peek at a unique ecosystem — just keep in mind you'll have to walk around it to get to the beach.
Bedrooms: 4
Bathrooms: 3
Sleeps: 10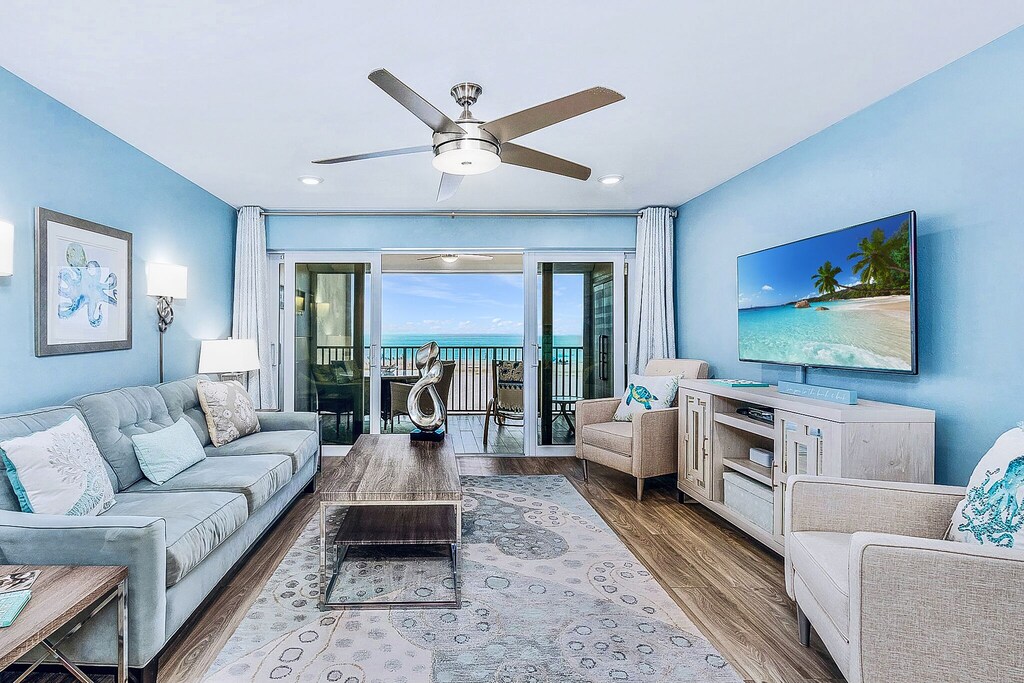 Couple's Condo At The Beach Club
Rent Now
$215.00/avg nightly
If you're looking forward to a trip for two, don't overlook this beachside condo! As a part of the Estero Beach Club, visitors to this condo get to enjoy the club's heated pool and other amenities.
If you are meeting up with friends, the club has the benefit of offering many more condos, including this one's two-bedroom "sister."
The Couple's Condo boasts a king-size bed, a bathroom with dual vanities, and a comfortable lanai. Very spacious for a party of two! Multiple restaurants are within walking distance. Getting to the busier parts of town is no problem as the island's trolley stops just outside the building.
Bedrooms: 1
Bathrooms: 1
Sleeps: 2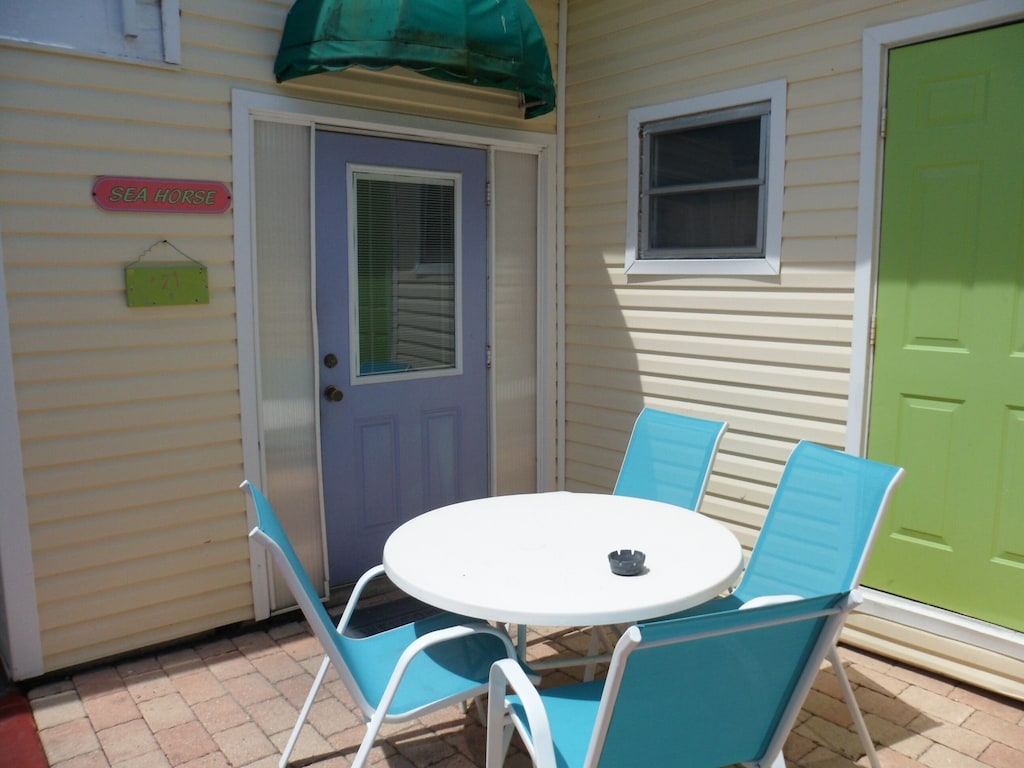 Seahorse Studio
Rent Now
$167.00/avg nightly
Another great option for a practically minded couple looking to enjoy a beach holiday together, this studio pairs all your basic amenities with an excellent location. It has a king-size bed, walk-in shower, and seating areas (both indoor and outdoor).
The kitchen is barebones but dining options in the vicinity are vast. The property is close to the main bridge onto the island and therefore near to many of the island's shopping and dining hubs. Times Square, the fishing pier, and (of course) the beach will all be just steps away from your front door.
Bedrooms: 1
Bathrooms: 1
Sleeps: 2